New identity, new website, more social.
Mona began as a small team of creators, building towards the future experience. Over the last year, Mona has unleashed creatives into the immersive web leveraging web3 technology.
We are proud to announce several changes that will be unveiled in the months ahead, starting today with our elevated identity, enhanced website, and social features.
These new upgrades are designed to further support immersive creatives.
Elevated Identity
Metaverse Creators are Bold. So is our new brand identity. Early on, we knew we needed to elevate the Mona Brand to match the level of the incredible creators on the platform.
With the help of brand designer Adam Ho, who previously designed for Nike, CashApp, and more, forged a new identity fitting of a cultural institution supporting top creative talents.
The final brand is a mixture of three key insights:
Having an identity that meets the art and the artist.
Seeing cultural institutions (like museums and galleries) as a good point of reference, infused with a touch of rebellion.
Bring up the energy (to match the energy of new worlds and paradigms).
The end result is an identity that is grounded, essential, and kinetic.
Enhanced website
We're excited to unveil a new website along with the Mona identity.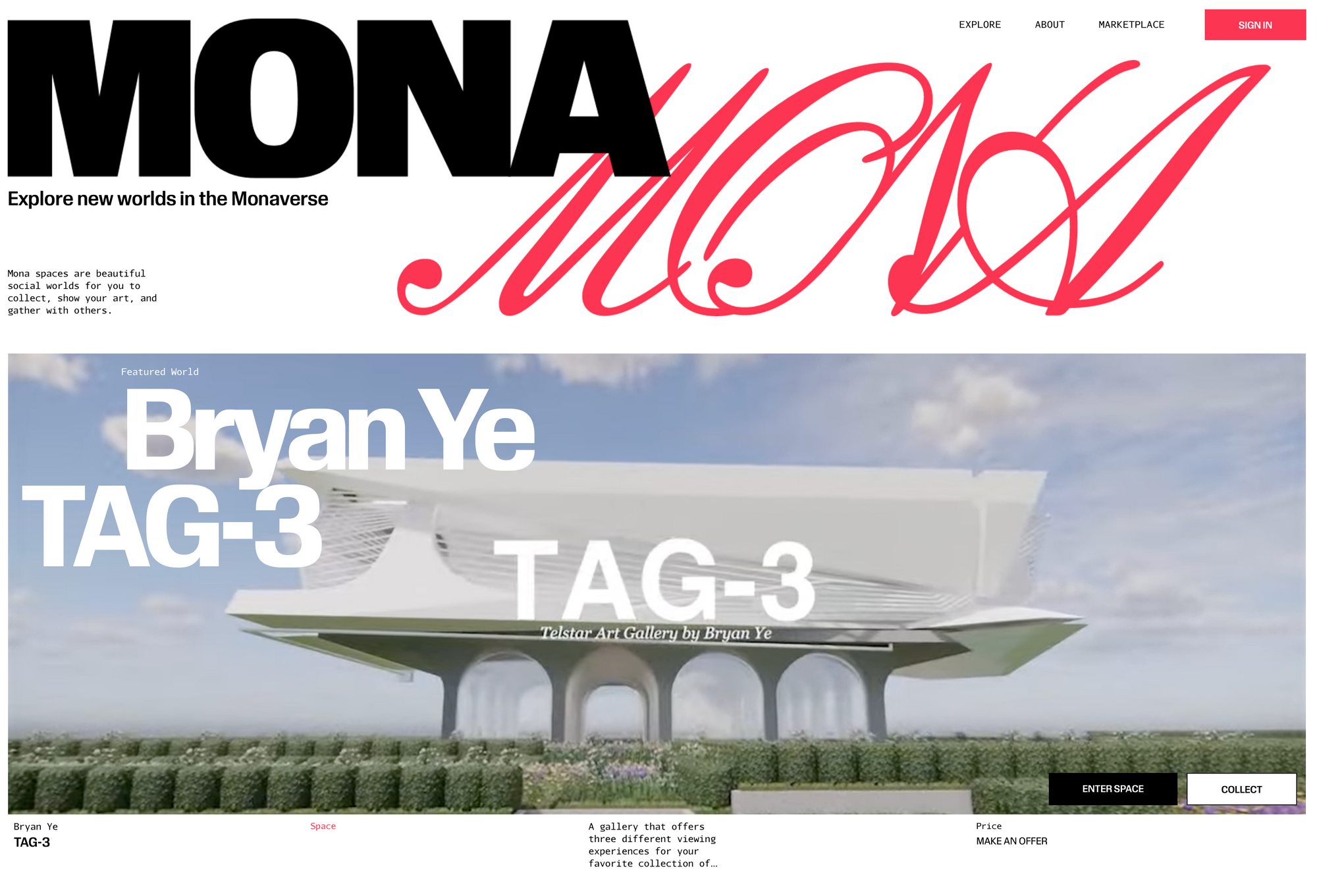 After an explosive 2022 growing the largest 3d creator community in web3, we dedicated all of our energy into improving the core infrastructure of the Mona platform to fuel our growth, launching builder-focused features, scalable Multiplayer, Avatars (with legs), Token Gating, and more. This set the stage for the most immersive unique metaverse experiences ever seen like XCOPY's Bar, and entire galaxies like Tom Sachs' Rocket Factory's The Final Frontier.
Mona is creator first, and always will be. This is a home space where you can discover and collect the most immersive art experiences on the blockchain built by the best creators on the planet.
But for creators to enter the metaverse fully, they must be able to make a living doing so. This new website includes an expanded marketplace to help match creators to collectors through a better collector interface. This will continue to evolve with increased functionality coming in the months ahead, including metaverse content indexing and more.
More social, more immersive, digital experiences.
The most incredible outcomes at Mona, isn't the product, but the people and connections formed along along the way.
We've seen a global community grow from zero to tens of thousands, and friendships form from all corners of the globe.
Throughout 2023, creators will find ways to be more social in and out of worlds, starting with social profiles on the Mona website.
Create the future of experience.
While no one can predict the future, at Mona, we believe the future of human experience starts with creators using cutting edge tools.
It is up to you, to help create, support, or explore the next frontier of experience.