Interoperability is the key to unlocking infinite creative exchanges in virtual landscapes. This functionality allows creators and explorers of the Metaverse to carry their IP across platforms that have the ability to exchange information with one another. Through interoperability, many creators are pushing the bounds of what is possible with interactive virtual worlds.

Tangpoko, one of the most thrilling Metaverse creators, is the founder of a creative collective called DCL Babydolls. In addition to operating her Dollhouse, one of DCL's most popular venues, she continues to innovate at the cutting edge of the industry through weekly events, and an undeniable presence in activations like Metaverse Fashion Week & Metaverse Art Week.
I'm fascinated by virtual spaces and immersive experiences. Interoperability is about bringing my identity, my assets, & my community from platform to platform wherever I go. I'm so thankful and excited about the opportunity to work with Mona again. -Tangpoko

Double Trouble was brought to life by Tangpoko, Mona, & Decentraland, a virtual world for creators, owned by creators. This cross-platform Metaverse party brought both the Dollhouse and the Babydoll VRMs from Decentraland into Mona.
Mona launched a kickoff for this epic party with a Twitter Space featuring Tangpoko, Decentraland, and Emm & JK47 from the Babydoll community to discuss interoperability at its core.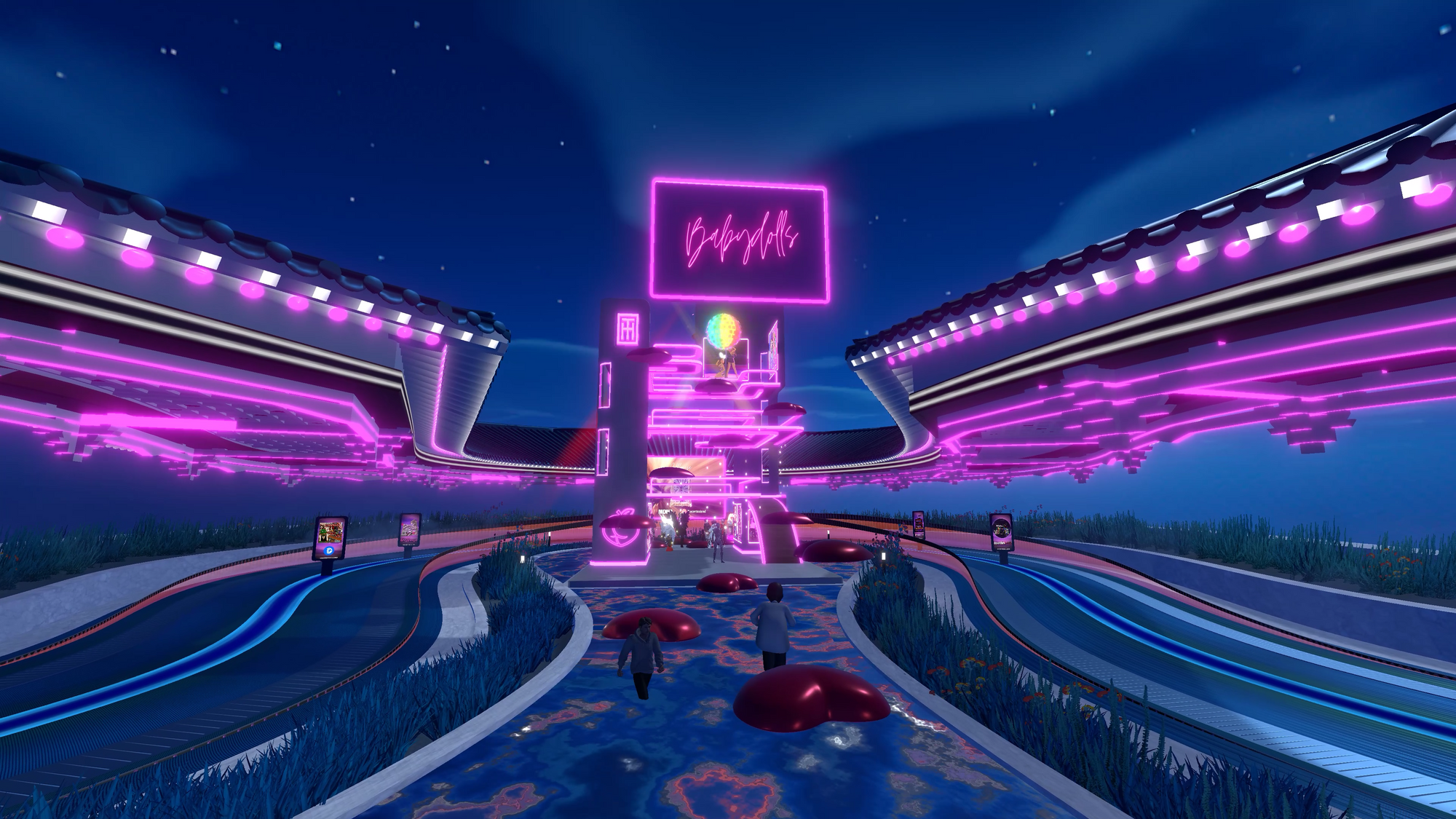 ---
Mona: How would you describe interoperability to a beginner that might not know what it is?
Tangpoko: I'll start with our origin story. In 2021, the Metaverse was a lonely place. It took a long time to find a group that I belonged to, but that made me realize I had my own identity in the Metaverse; that I wasn't just a faceless, nameless avatar roaming around. Interoperability let's us go from place to place with our digital identities. We don't have to start new every time. I think of it as a passport; a global citizenship that grants us the same identity across platforms.
Emm: I would call interoperability a collaboration of different Metaverses. Interoperability has different types of components, so it can be your wallets, your wearables, etc. You can seamlessly integrate & connect all these platforms so we're not just individually growing these little pockets, but the entire jacket.
Mona: For artists there's so much value in interoperability when it comes to things like IP; you don't want to be stagnant, so the ability to develop your creations across platforms is the best feeling. What are some other values that interoperability holds for you as you create and explore the Metaverse?
Tangpoko: Being able to outreach into different platforms helps your personal branding, which is a lot about visibility and recognition. So being able to have the same identities, logos, wearables, or experiences crossing over to different Metaverses is extremely important for personal and even business branding.
Mona: Can you tell us more about the Double Trouble party?
Tangpoko: We're so excited to be doing this collaborative party with Decentraland and Mona. We've been talking about building a Dollhouse in Mona since a year ago and it's finally coming to fruition! We have tons of giveaways from DCL community partners & we'll be celebrating DCL's brand new VRM export function. Now wherever we are, we can take our exorbitantly expensive wardrobes from place to place, and I wanted to celebrate it with everybody!
---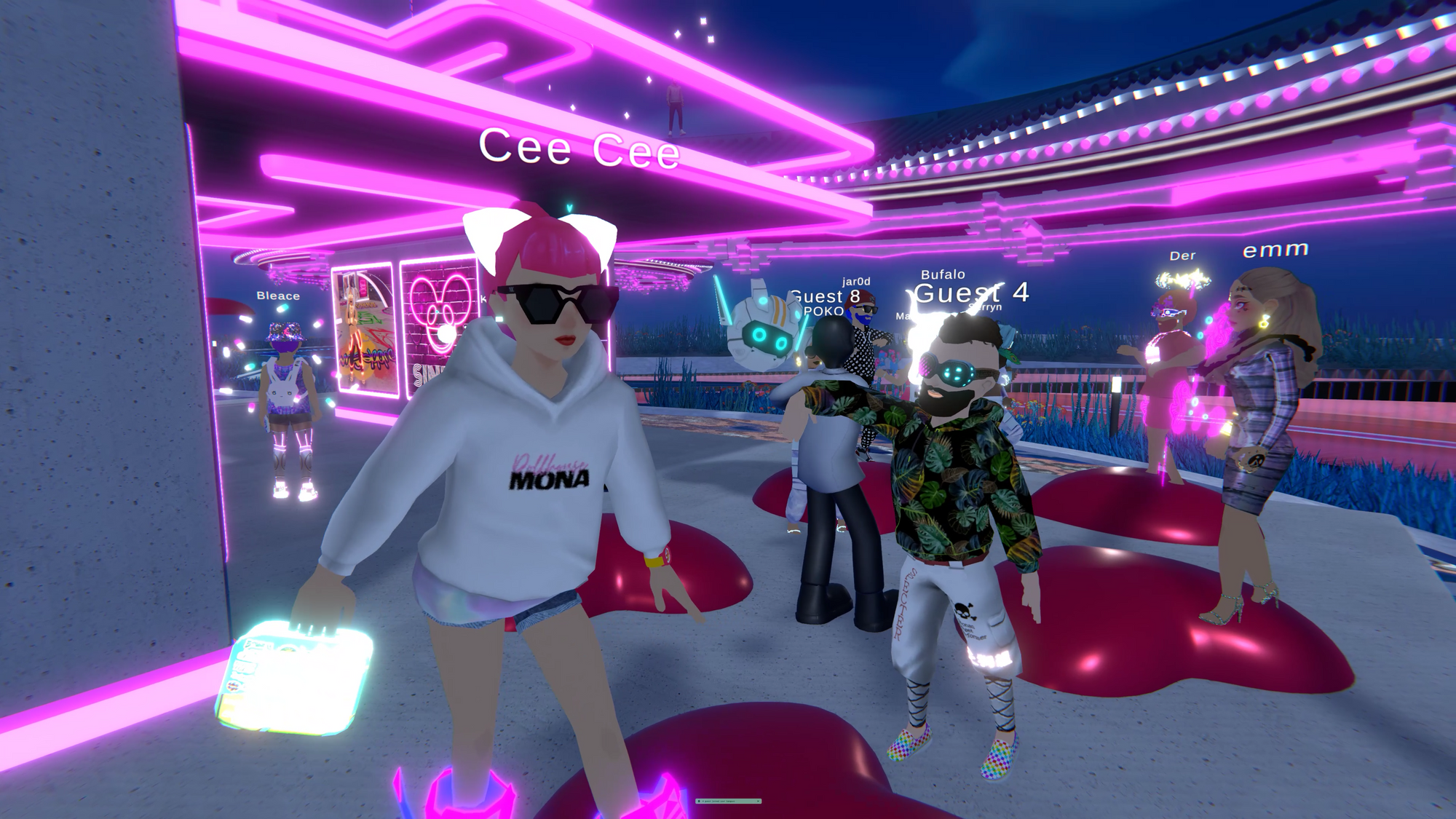 Double Trouble rocked the Metaverse, bringing over 50 explorers together across Decentraland and Mona to celebrate the grand opening of Dollhouse #2. Check out the worlds below for yourself and watch a quick recap here! Follow Mona & Decentraland for access to more interoperable events in the future.

Dollhouse in Mona: https://monaverse.com/spaces/dollhouse-mona
Dollhouse in Decentraland: https://play.decentraland.org/?position=-102,-97