Immersive worlds, generative fashion, & signature cocktails?! Mona partnered with Tribute Brand at Glitch Marfa to bring these multidimensional experiences to life for the third annual Art Blocks Marfa Weekend.
Art Blocks Marfa Weekend is a gathering that celebrates contemporary art, tech, and finance. This year, Mona and Tribute Brand, a digital fashion company that launched in 2020, produced an event at the intersection of art, tech, & fashion. The event pushed the boundaries of immersive exchanges, and took place at Glitch Marfa, an analog gallery for digital objects.
Mona's CEO, Justin Melillo, was joined by the founder of Tribute Brand, Gala, & Karen Shen of Collab+Currency for a special Twitter Spaces recap.
---
Mona: Can you all give us a summary of what went into the event?
Justin: This event was a great opportunity for Mona & Tribute Brand to bridge the physical and digital. It began with a thoughtful panel on the future of digital fashion, wonderfully moderated by Karen Shen. The panel featured Gala, Danny from Drop, Colby from Merch, and myself. Afterwards, we enjoyed a night of virtual fashion in the Metaverse. We recreated the Glitch Gallery & Marfa 1:1 in Mona. With a focus on Chromie Squiggle, we created a game where attendees could collect Squiggles in the 3d Marfa world.
Gala: From Tribute's end, we recently collaborated with Chromie Squiggle on ODDS, which are physical & digital generative art sweaters. At the event, we had six bartenders dressed in different ODDS sweaters serving signature generative ODDS cocktails. The experience summed up what the future of fashion is. It was telling the story that fashion is everything, not just clothing.
Karen: As someone that got to experience the whole event, the end-to-end production was amazing. Walking in, getting the Squiggle cocktail from mixologists, playing with the AR, and then seeing this digital twin version of Marfa on high quality screens while collecting Squiggles... The whole thing was amazing!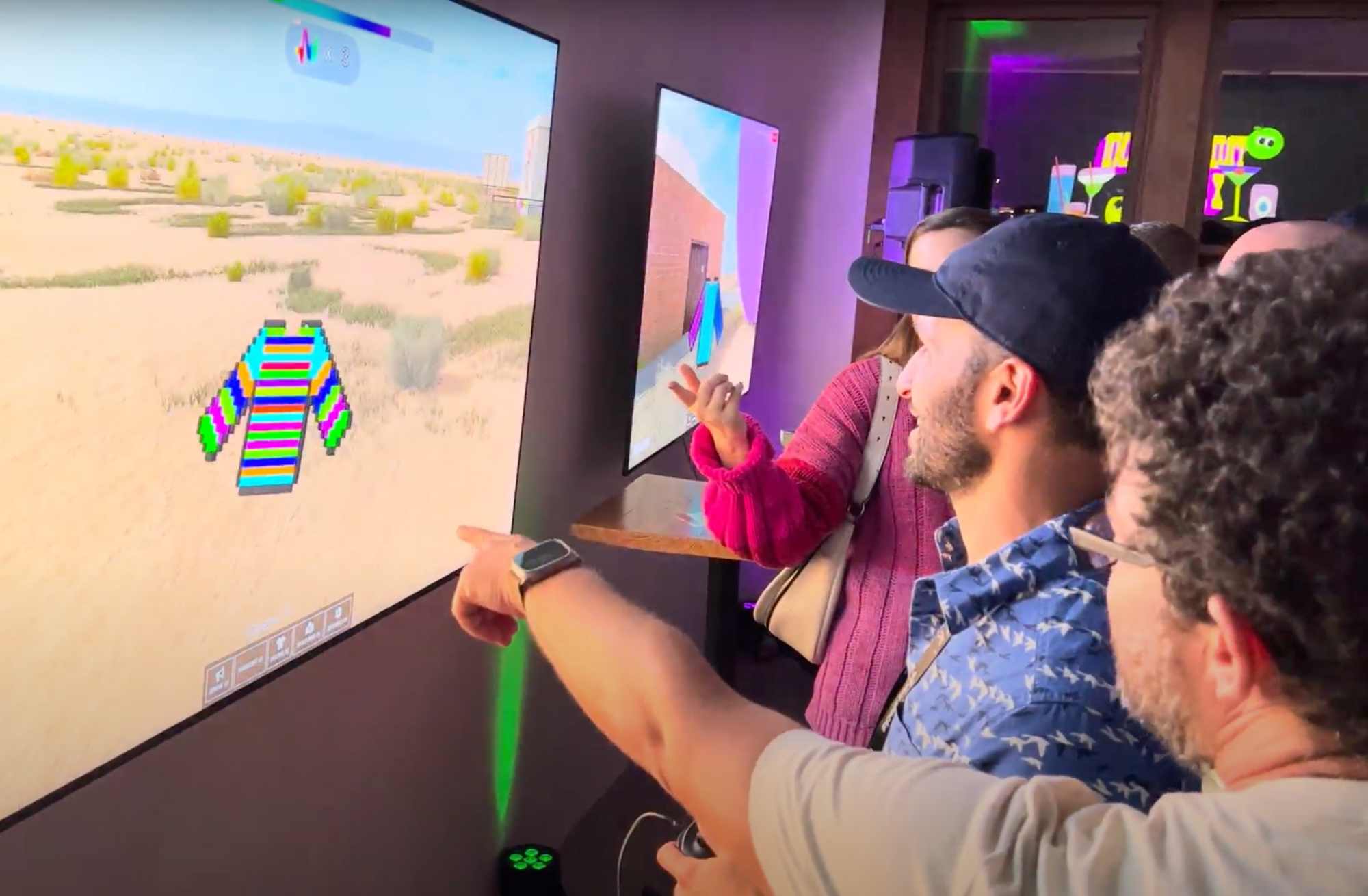 Mona: Karen, can you tell us more about Collab+Currency & your experience moderating the panel?
Karen: I'm part of the investment team at Collab+Currency. We invest in early stage consumer crypto projects across a couple of different verticals, including: digital fashion, immersive environments, Web 3.0 social music, etc.
The panel was titled "Generative Fashion." We talked about what generative fashion actually means, how generative procedures can be applied to an industry like fashion, physical manufacturing processes, and opportunities that generative artists and algorithms have within fashion. Another big talking point was about expressing our identities digitally. My biggest takeaway from the panel is how excited I am for the future of this digital fashion & immersive environment sector.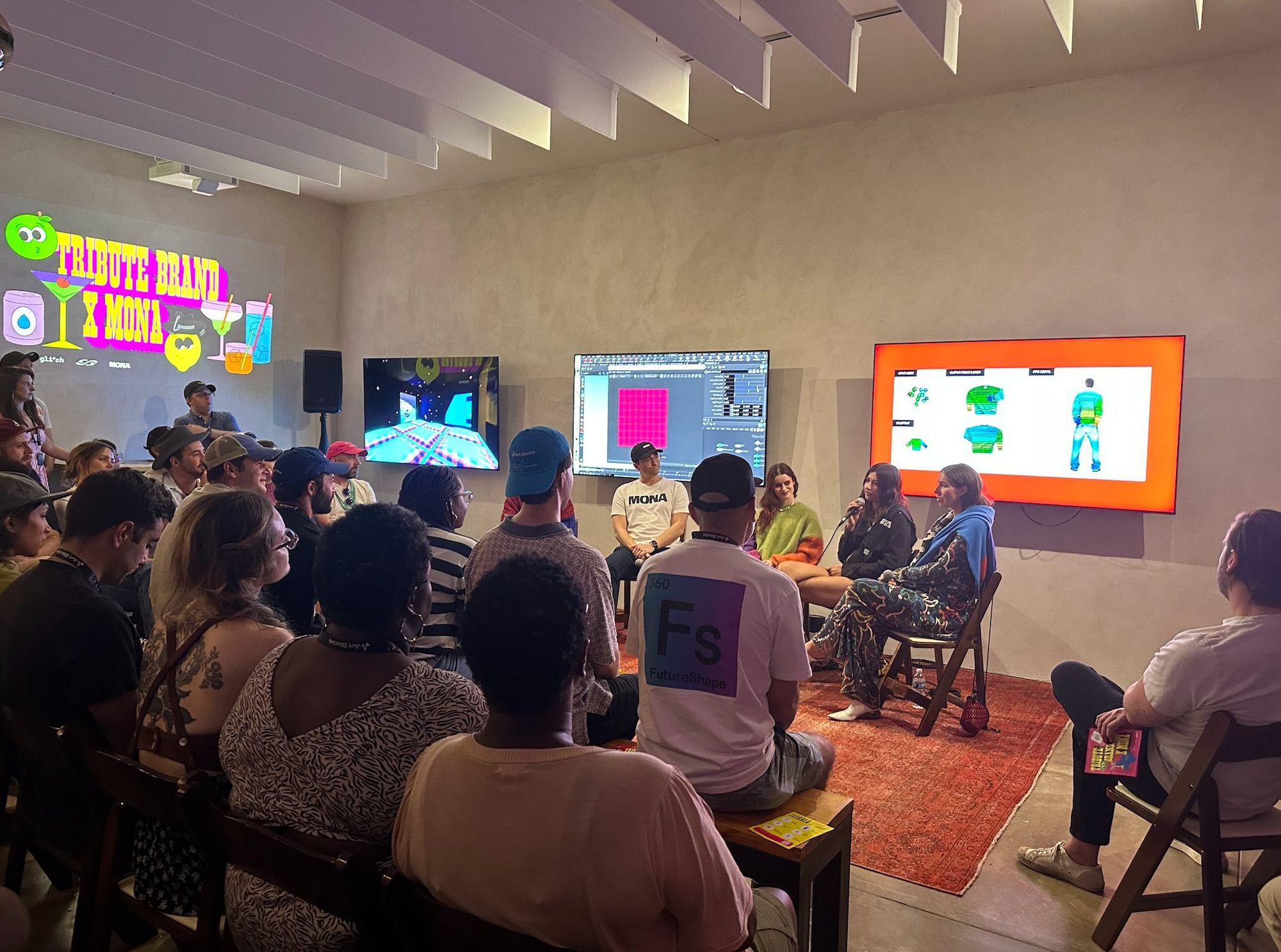 Mona: Gala, can you tell us more about the ODDS sweaters & the generative cocktails?
Gala: Tribute Brand, Chromie Squiggle, and a physical fashion brand called Waste Yarn Project worked to create ODDS, which are generative physical and digital sweaters based on Chromie Squiggle code. There are six types of sweaters based on the six types of Squiggles. The physical component is zero waste, manufactured with leftover yarn. They are embedded with Tribute Brand's NFC technology making the experience accessible in physical and virtual environments. It took a lot of creative development. It takes 12 hours for one sweater to be made by hand.
Fashion is not just clothing. A drink of choice is also fashion, so we decided to make generative cocktails. We had six different cocktail pipes connected to each Squiggle type and a specific sweater. We gave them funny names, and we created an AR experience on top of that. People were able to put their cameras towards the cocktails and see them come to life.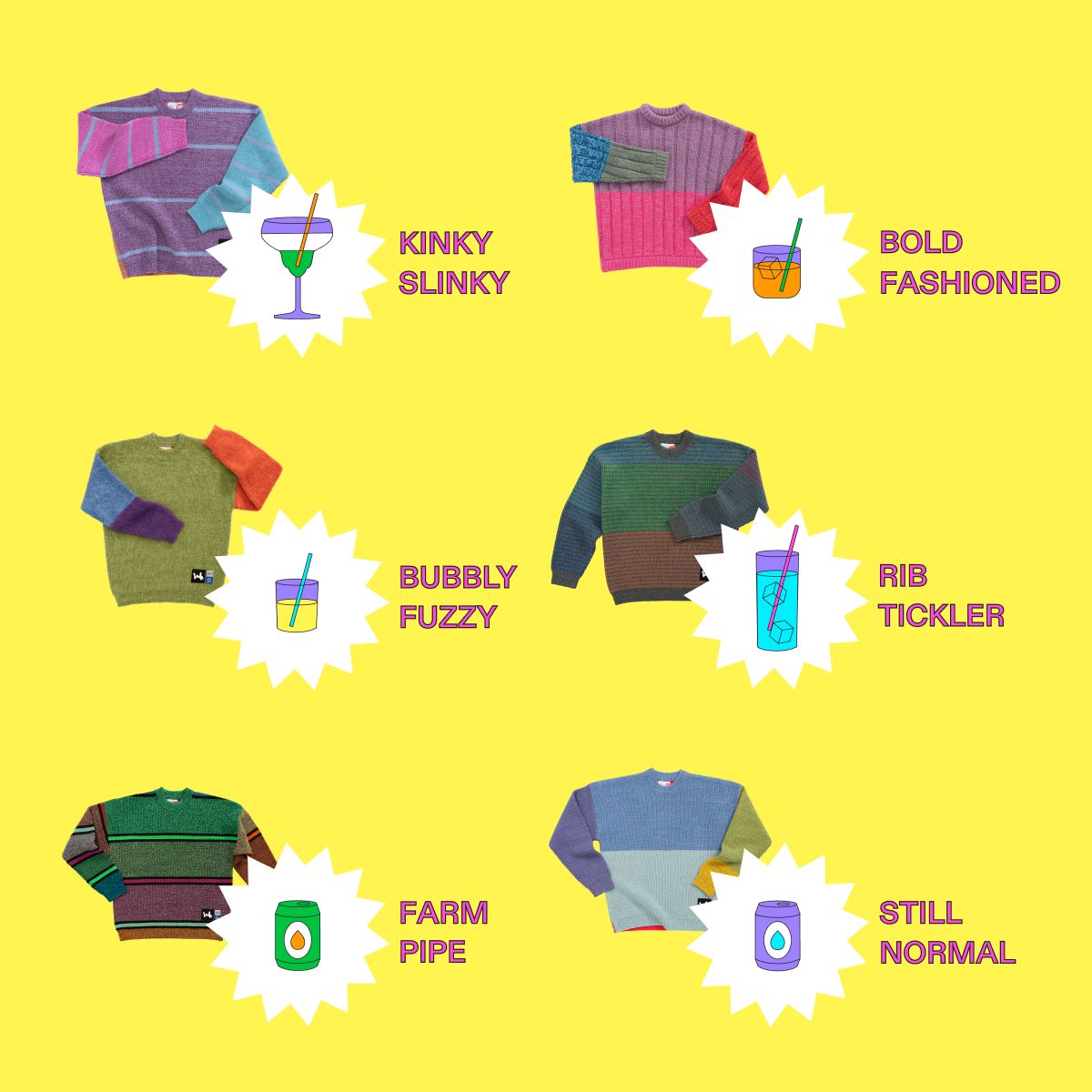 Mona: Justin, how did people engage with Mona's immersive setup, and what went into the digital twin world creation?
Justin: A huge shout out to Faraz Mobin who built this is virtual twin world, and to Ryan Lebar, our producer at Mona Studios who led the project. We essentially recreated Glitch Marfa 1:1 in about a month's time. We wanted to make it easy for folks to jump in and start exploring, so we connected Xbox controllers to the beautiful Glitch Marfa screens. Attendees could easily collect as many Squiggles as possible in the game. There are fun NFT and art easter eggs, a number of Marfa landmarks, and we included the Prada Marfa store which you can actually go inside, unlike the physical version. I think this is going to set the standard for virtual twin on-chain recreations of physical spaces.
---
The future of art, fashion, & technology is bright and limitless. These cutting edge experiences will continue to push the boundaries of immersive, generative exchanges that span across physical & digital spaces.
To hear the full Twitter Spaces, tune in here. Follow Mona, Tribute Brand, & Collab+Currency to stay up to date on future immersive experiences!